Green Flag Award 2016
We are very proud to announce that The Helix has been awarded our very first Green Flag Award!
Environmental charity, Keep Scotland Beautiful, has announced today (Thursday 21 July) that a record breaking number of parks from across Scotland have been presented with a Green Flag Award, including The Helix from Falkirk, in recognition of its high standards and provision of quality outdoor space.
The Green Flag Award, administered in Scotland by Keep Scotland Beautiful, is a benchmark for quality green space. The winning Falkirk park, run by Falkirk Community Trust, joins almost 70 others from across the country that are celebrating receiving the award.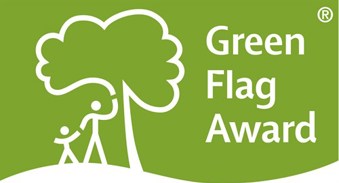 The announcement confirmed that a raft of Green Flag Award parks Scotlandwide retained their Green Flag titles, with Barnhill Rock Garden in Dundee and both Braidburn Valley Park and Harrison Park in Edinburgh receiving the award for the tenth year running. Seaton Park in Aberdeen, The Helix in Falkirk and Castlebank Park in South Lanarkshire were amongst those presented with the award for the first time, along with the first cemetery, New Dumbarton Cemetery in West Dunbartonshire, to be awarded. 
Neil Brown, Falkirk Community Trust General Manager, commented:
"We are delighted that The Helix has been awarded Green Flag status. This is due recognition that The Helix meets such high standards for parks and green space across the country.
"Transformed from underused land in 2014, The Helix has attracted visitors in their millions who wish to take advantage of our outdoor facilities including miles of scenic cycle pathways, water lagoon activities, family events and accessible adventure play zones.
"Not only does it connect multiple communities across our local area, The Helix also attracts visitors from across the globe who cannot wait to see Scotland's latest cultural landmark, The Kelpies, which are situated within the Helix site.
"It is really exciting to see so many different people visiting, using and enjoying The Helix and this award reinforces the impact that this site has in enriching people's lives in our local area".
All parks are assessed by volunteer judges with a background in park management, conservation or ecology. Applicants are judged against testing criteria which includes assessing whether the park or green space is welcoming, safe, wellmaintained and secure.
Dr Lindsay Montgomery, CBE, Chairman of Keep Scotland Beautiful, said:
"Good quality green space is vital to the health and wellbeing of local communities, families and individuals - that is why it is fantastic to see Scotland's parks and green spaces going from strength to strength.
"More Scottish parks are flying the Green Flag Award than ever before. This record breaking number is a testament to the hard work and determination of park managers, local authorities and volunteers.
"It is great to see such a concerted effort across Scotland to improve our open spaces. We are proud of all our award winners, who work year round, to make Scotland's parks and public spaces beautiful."