Walking & Cycling
Get fit, relax in the fresh air, or explore your local area!
The Helix path network provides a stunning backdrop for walks, runs or cycling. Our pathways connect 16 communities via 26 kilometres of paths - so there's always a new route to try. Whether you're a serious runner, scenic stroller, dog walker or keen cyclist - there's plenty of room for everyone.
The Helix is a great place to run or cycle - our paths are wide and flat, as well as being easy on the feet having been  surfaced with a smooth finish. 
Cycle parking racks are available outside the Plaza Café and the visitor centre at The Kelpies.
We have an Forth bike  docking station by our Kelpies car park. For more information on using the electric bikes, please visit here.
We're also lucky to be linked to two National Cycle Routes as well as the John Muir Way, which runs from Dunbar in East Lothian to Helensburgh in Argyll and Bute. You don't have to follow a set path, though - you can get out and explore our extensive path network.
Walking
Cycling (HArTT Route)
Disability access
Walk with a group
Walking groups are currently unavailable due to limitations involving groups.
Walking 30 minutes fives times a week can be highly beneficial to your health and fitness, and it's totally free. Walking is ideal for all ages and fitness levels, and is by far the easiest way to get more active. 
We have the following organised walking groups which start from Falkirk Stadium and walk around the Helix park - they are  a great way to meet new people and have some fun!
Monday, 10am, Health Walk 
Monday, 7pm, Heart of the Helix Walk
Wednesday, 7pm, Helix Connect
For more information on walking groups, training and for other Nordic Walking sessions around Falkirk, contact Barbara McConnell at barbara.mcconnell@falkirk.gov.uk
For those unable to get outside, this Walk Your Way to Better Strength and Balance leaflet is very useful.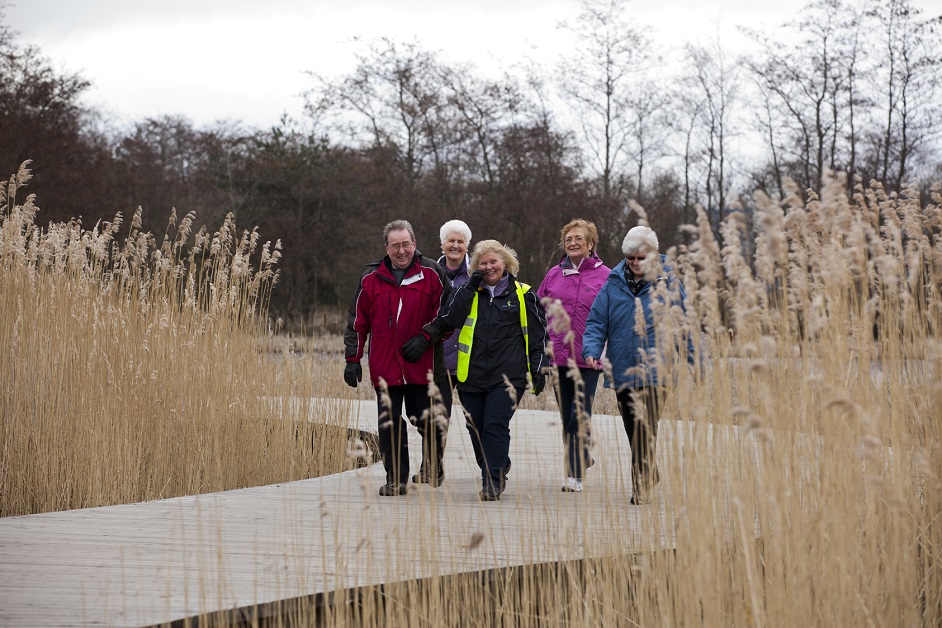 Please note we're currently re-designing this route and there is no signage in place at the moment. 

The new route 'Heart of Falkirk' is in progress so please check back here for more information soon!
We've tried to make The Helix pathways as accessible as possible for all -all our pathways within the park are smooth and flat.
If you'd like to learn more about health, sports and exercise for the physically, mentally or sensory-impaired, get in touch with Forth Valley Disability Sports for more information and support.
Click here to see a fantastic video they did of a cycling event at The Helix and Kelpies on Facebook, promoting disability cycling.