Make it a New Year to Remember!
Round off your Christmas and Hogmanay celebrations with an illuminated, magical journey around The Helix: Home of The Kelpies.
This year's theme for the popular Fire & Light show is 2020 Visions – bringing a fusion of past, present and future to Falkirk as part of Visit Scotland's Year of Coasts & Waters.
Take a 4km walk to see the Kelpies brought to life with music, light and fire, as The Helix Park becomes home to an amazing array of interactive experiences - featuring the very best artists, musicians and performers from across Scotland:
Mugenkyo Taiko drummers are at the forefront of the art-form of taiko drumming, breaking boundaries with their innovative performances.
PyroCeltica work with fire to offer you a warm welcome for a brand-new year.  Scottish themed music, costumes, dance, circus and theatre melded together in flames. 
Theremin Hero is the stage persona of software engineer and professional geek, Greig Stewart. A Britain's Got Talent Semi-Finalist and world-renowned Laser Harp player.
David Banks (Ukemi) is a Glasgow based artist and movement specialist who aspires to reclaim cities and reduce inequality through community arts and performance.
Jacob Steed is a fashion designer who captures the simple essence of movement as mesmerising sensation for both the wearer and the viewer.
David Powell is a maker in steel and willow, inspired by landscape form and place. He creates time-based performance works and sculptural constructs of abstract and figurative form.
Lucy O Higgins is an eco- artist working in various media. She has developed methods of working with single-use plastics to create fun, bold and thought-provoking pieces.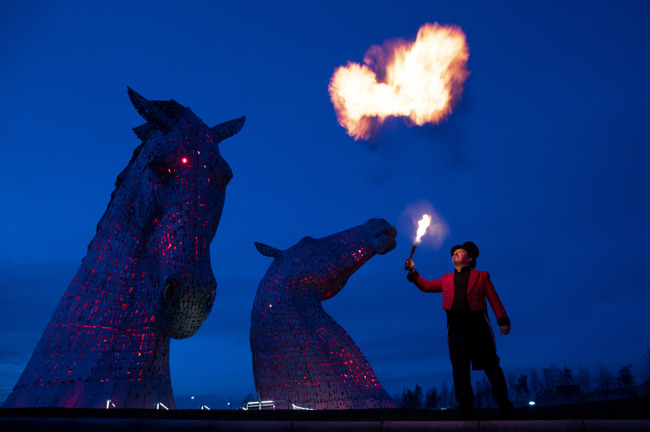 Highlights of the Fire and Light 2020 Vision experience include:
A magical lagoon lit by ever-changing lights and lasers
Powerful live music performances, with spectacular choreographed lighting effects
A Garden of Fiery Delights with multiple interactive fire sculptures
Stilt-walking musicians performing live
LED hula hoop performers 
UV face painting
Marshmallow toasting on open fires
Tasty hot drinks and sweet treats from our concession stands
Unique photo opportunities.
Fire and Light is a magical transformation of the dark night into a carnival of colour and performance, suitable for the whole family. Embrace the adventure, journey through the past, share memories and experience the excitement of a bright new future.
Please
read our FAQs
where you should be able to find answers to any questions you may have! 
Event Parking
Don't worry if you cannot get a parking ticket at Falkirk Stadium, we will be running a shuttle bus from Callendar Business Park to Falkirk Stadium for those attending Fire & Light who have not purchased parking tickets at the stadium.
The buses will be running approx. every 15 minutes from 4pm – 11pm.
We would be asking those to using it to donate via the donation buckets on the bus.  All those using the bus are asked to not drink or eat whilst on the bus.
Event Feedback
If you have attended Fire and Light 2020 we'd love to hear your feedback. Please fill out the survey here and let us know what you thought.